The June 2022 QxControl update is one of the biggest yet, with an all-new sleek menu that significantly enhances the usability on both desktop and mobile. New Live Video Borders gives visual indication when video is recording or events are detected. The upgraded Door Widget now displays associated video. And more powerful multi-tenant capability with the new Places 1.1 user interface.

Here are all the details on this exciting June 2022 QxControl update:
Here are the new June 2022 features in detail:

Major UI Update: New Menu Layout
In this update, the main navigation sidebar menu has been completely redesigned to make everything easy to find and easy to use.

With this new menu, the most often used pages are prominently displayed, with the detailed configuration and administration pages collapsed. When expanded, the new Configuration sub menu with all of the system and administration pages are revealed.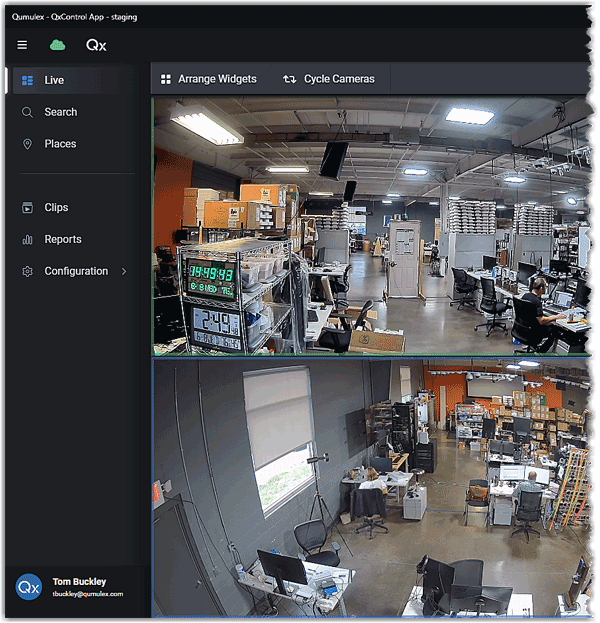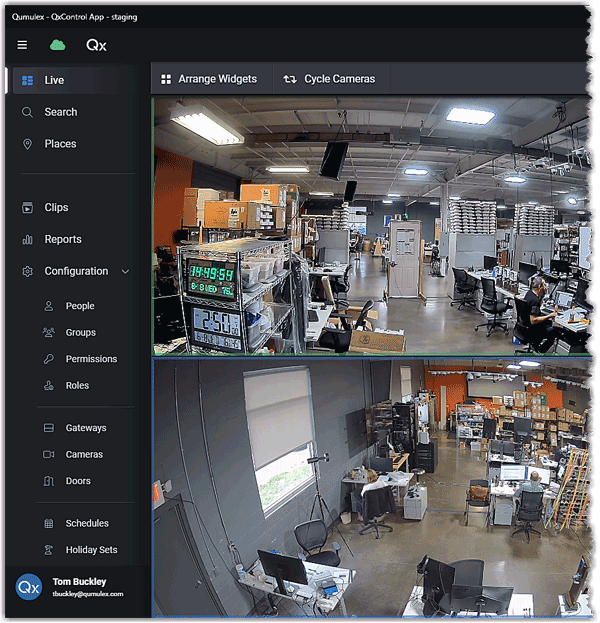 This new menu also significantly enhances the ease of use of QxControl on mobile: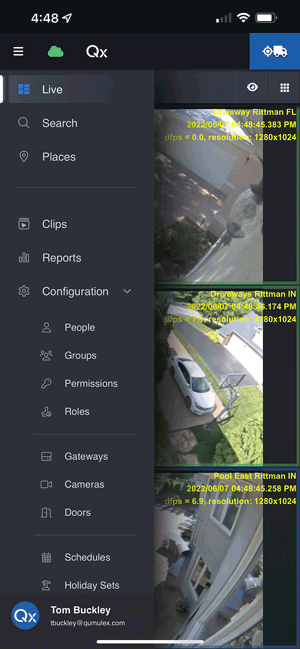 New: Unified Door Widget in QxControl

Qumulex QxControl was built from the ground-up as a unified Video and Access Control solution. Now it is even easier to view and operate doors in Live.
Door Widgets are now automatically paired with the associated camera so that you can drop the Door Widget into any Layout or View and see what is happening at the door before you operate it: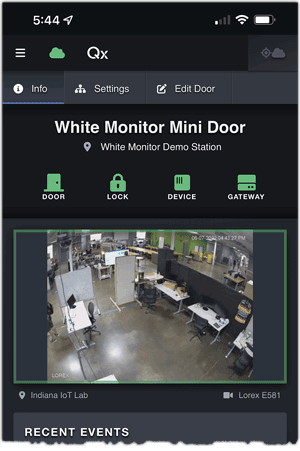 Combining the Door Widget with the associated video ensures you are looking at the correct camera, and makes more efficient use of the layout, especially on mobile.
New: Live Video Borders
Viewing live video is an important aspect of QxControl and now it is even better!
When viewing in Live or wherever live video is available (such as a camera or door page) you will now notice a colored border that can appear around the video.
Green border: Continuous recording is occurring
Blue border: Event recording, such as motion or analytics, is occurring
If you have a camera set to event only recording, you will see no border until an event occurs: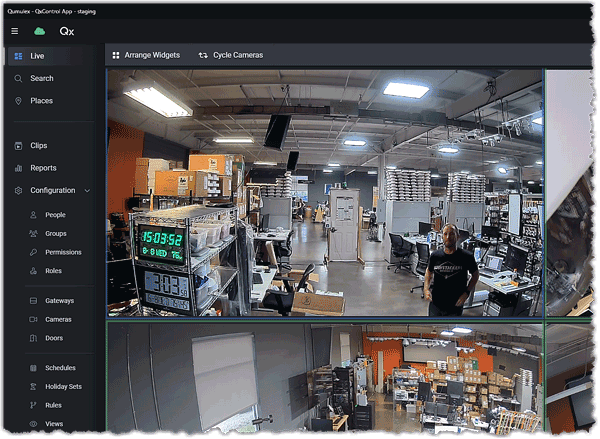 New: Places 1.1
The native multi-tenancy of QxControl gets even more powerful with the updated Places page. Several enhancements have been made to make setting Scope and navigating Places much easier.

Now in Places you have a visual indicator if a lockdown has been initiated in any area: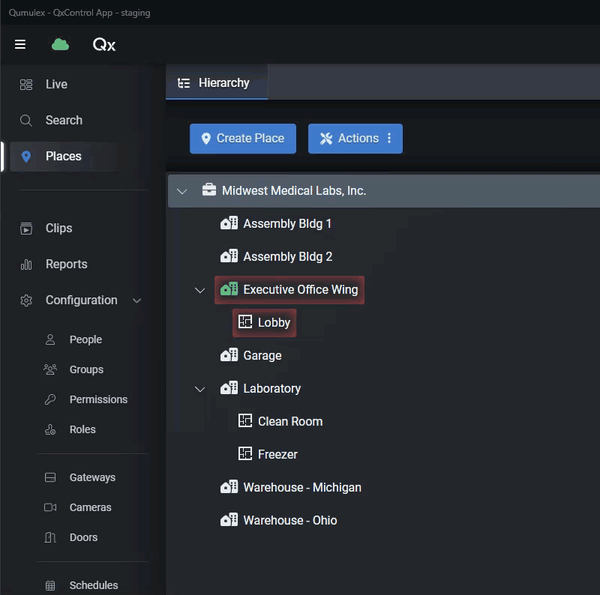 Also added are the new Info and Edit Place tabs, which are easily reached by simply clicking on the Place you wish to view. You can now easily edit and view all important information for this customer: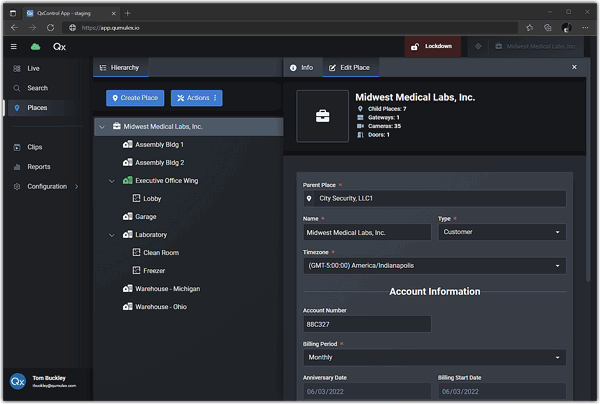 This button is easy to find, and designed to avoid unintentional Lockdowns. To initiate, click the Lockdown button three times, and you will see a visual indicator letting you know that you need to keep clicking.

Visual feedback in QxControl will show a glowing red indicator at the top of your screen and all door widgets will show a red padlock to indicate the door is locked down:

To remove the Lockdown, simply click the Lockdown button three times. This will then provide a final prompt to confirm and verify that it is now safe to do so:
Also in the June 2022 Update: Several other enhancements or fixes have also been added to QxControl in this update. Some of these include:
Go to Search field added to Door and Camera Action menus
Fix: Persist Search Page settings on Browser refresh
Fix: Digital PTZ not restoring properly on View
Information on this update, with a complete list of features, enhancements, and fixes, is available here: QxControl Release Notes.